How To Safely Remove Odors, Kill Germs And Clean The Air In Nacogdoches, Texas
10/13/2019 (Permalink)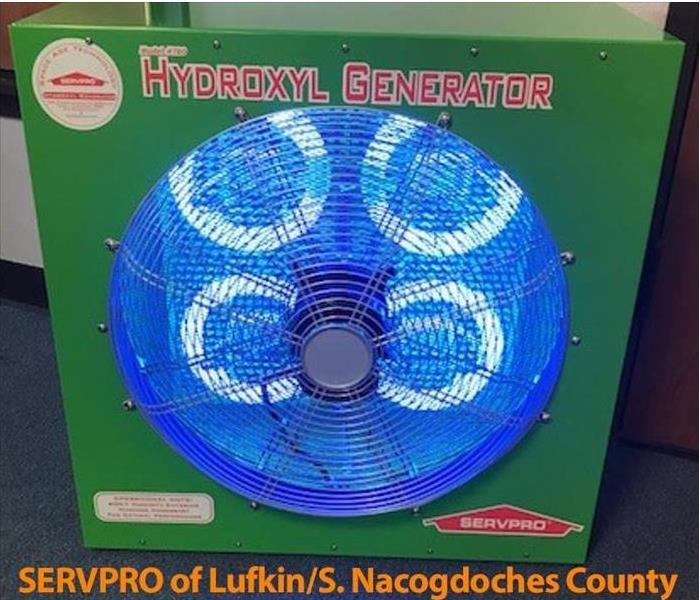 5,000 cfm max fan output, 40,000 cubic feet maxi treatment area, 8,000 hour optimum performance bulb life & Permanent washable electrostatic filter
The Hydroxyl Generator is one of the most scientifically-advanced pieces of equipment we use to combat malodors and leave a property deodorized following biohazard, fire or water damage events.
The main benefit of using a true hydroxyl generator is that they are safe to use in occupied areas for deodorization purposes. For insurance companies and commercial businesses alike, they love this machine because it means less out of pocket expenses and henceforth, less business disruption!
These generators have been successfully tested on fires and other restoration and bio jobs, including protein fires, floods, dead body situations, skunk odors, pet urine odors, musty odors and many types of odors. However, it's important to note that hydroxyl generators are not intended for use on mold remediation jobs where there is a large infestation on surfaces or behind walls. The established protocols should always be followed in these instances. But generators with good filtration are excellent for airborne microbial remediation where bacteria or fungi have become aerosolized.
Here's a rundown of some additional facts in order to give you the inside scoop, should you ever need to reach out to us for smoke/soot deodorization needs:
How it Works:
UVA rays are emitted from the titanium dioxide photocatalytic lamps (wow, that was a mouthful) where they then pass through a permanent anatase coated super reactor screen, forming electron hole pairs that react with water and oxygen in the air to form free electrons and hydroxyl radicals that then decompose and eliminate organic and inorganic gases and air pollutants. Wow, trying saying all that in one breath!
Applications:
Use on fire and flood damage restoration jobs
Use to destroy odors from cigarette smoke, dead body, urine, garbage, airborne VOCs and more
As always, if you want to learn more about any of our SERVPRO of Lufkin/S.Nacogdoches County pieces of restoration hardware, feel free to reach out. We have helpful staff willing to explain further any of our services – (936) 559-0404.